Atikaki Provincial Park 2017 Solo Trip
A couple of weeks before this trip someone asked me how I picked a place and a route to take. I didn't have a good answer. It was not something I consciously thought about. A trip idea develops over time, starting at the end of the most recent trip. I started with some criteria for this trip. Someplace new, north of the border, not well traveled, 10-14 days and physically challenging. I was thinking about Wallace Lake as an entry point to WCPP. However, with last year's fire the Wanipigow out of Side Lake was said to be blocked and wasn't planned to be cleared until later in the season. The other option, three mothers portage from Side Lake to Obukowin didn't sound like a fun way to start a 14 day trip. Then I saw Martin Kehoe's trip report taking the Wanipigow north out of Wallace Lake to the Bloodvein. I had looked at that route in Google Earth a long time ago and always wondered if it was doable. That was the start of planning a route which would take me up to Aiken Lake, East on the Gammon River to WCPP. I would then followt he Manitoba/Ontario border north to Artery Lake and down the Bloodvein River to Stonehouse Lake. From there I would take the Teapail portage back to the Gammon River and to Aiken Lake. I would retrace my steps back out the Broadleaf and Wanipigow to Wallace Lake. This route had lots of short portages and several long portages. It fit all my criteria.
Day 1
Sunday June 18
Off to a good start
7 hour drive up, 5 portages, 8 miles
I started the trip from my cabin which is only 30 minutes from the Lancaster/Tolstoi border crossing on Hwy 59. It does not open until 8 AM so I was waiting in line. I don't think he had his coffee yet so it was only a couple quick questions and I was on my way. I had made the trip up this way several times so I knew where to stop and get my fishing license and Park Pass and get a good bite to eat in Lac du Bonnet. Drifters on the way out of Lac du Bonnet on Hwy 11 is the place to stop. It is attached to the Shell gas station. I crossed the Powerview dam and then up the 304. I made good time and was at Wallace Lake at 1:45. It was overcast with an occasional sprinkle and a good breeze out of the NE. Soon I was on the way across Wallace Lake. I was greeted with a good headwind which helped get any pre trip jitters out of the way. In the next 3 hours I would make my way across Wallace Lake, 5 short portages and I found a spot to camp along the Wanipigow. Despite a couple of sprinkles I went without a tarp as the forecast did not call for rain. My gear was quite disorganized and I worked on organizing the mess. It would take a day or two get things in order. As with the case on most of the trip, no bugs. An enjoyable evening. The days are long and it was still light out when I hit the sack.
Wallace Lake entry point, Loaded and ready to go
Camp on the Wanipigow, Enjoying the evening
Day 2
The Wanipigow and the Broadleaf Rivers
15 miles, 8 portages, 1000 meters
A nice start to the day. A bit of sun but mostly overcast. I paddle a few miles before the first of several short ~50 meter or so portages. It looks like good moose country so I keep my eye out for moose. Along the way I see a broken down and discarded canoe. I am sure it has a story. Then at the end of the 3rd portage there is a moose out in front of me. A young cow that pays no attention to me. This portage also has some "relics" left on it. I am guessing that this route has been used for moose/duck hunting or harvesting wild rice. Soon I am at the junction of the Broadleaf River. A nice place to take a break. A mother snipe is protesting my presence and soon I see why. She has a young one hiding in the fire ring. I didn't get its picture this time but would get one on the return trip. On Leaf Lake I was greeted by a pair of swans and then a pair of Sandhill Cranes who turned out to be very photogenic. I found a small rocky Island to have lunch on and take a break. Leaf Lake is a wild rice lake. It had not quite yet emerged. After lunch I passed a ricing shack that I am sure doubled as a moose camp in the fall. At the end of Leaf Lake was a large campsite. You could fit a dozen tents. I make note of this as it would be a good camp site on the way back. At the end of Leaf Lake you pick up the Broadleaf again. It was a bit tricky finding the entrance. Before I realized it I ended up on a mud flat. Eventually I found the way on the west as it meandered and snaked through the sedge meadow. This winding section has a couple of dead end possibilities. It is shallow and a soft bottom. You sit down in the sedge grass so not a good view. However, there were lots of freshly hatched ducks to keep it interesting. It eventually straightens out and gets skinny as you approach a set of portages. They are short, the last one you have to cross over a rock garden and up the other bank to finish the portage. I bit tricky if it is wet and slippery. Soon I am at a decision point. There is a set of portages that cuts off about 3 miles of paddling to Kosteck Lake. I am tired of the narrow shallow Broadleaf so decide the portage route. The portage is a little grown over the first 75 meters or so but then opens up and it becomes a task of following the rock cairns with some nice vistas as you follow the top of a sedge meadow. About 600 meters later a small no name lake. The portage continues on the other side. I find a nice camp site at the beginning of the portage and decide to call it a day. It is a nice evening. After getting set up and have supper I enjoy the evening. It was a long day and I am ready for the tent early.
Portaging on the Wanipigow
Lots of baby ducks, A mama ringneck and her brood
A young cow moose at the end of the portage
Portage from the Wanipigow to the Broadleaf River
Sandhill Cranes on Leaf Lake
Ricing camp on Leaf Lake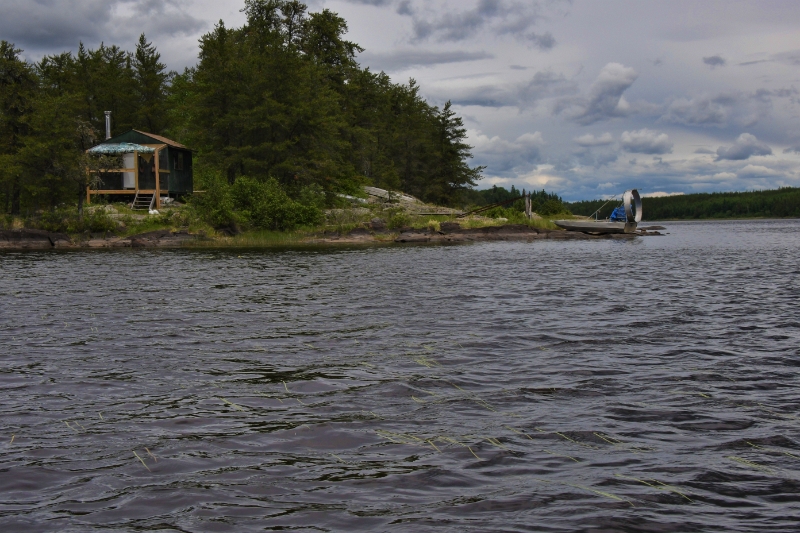 Day 2 Camp on a Noname Lake at the beginning of the north segment of the cutoff portage
Day 3
Portaging and Paddling
11 miles, 4 portages for 2600 meters
I am up early and the sun is breaking through a light fog. Sunrise is at 5AM but it is light enough to see without a headlight at 4 AM. I take some time to enjoy the sunrise while enjoying some hot tea and a large sugar donut. I had 3 of these jumbo donuts for the first part of my trip. They make a good easy breakfast. I start the day with a 1200 meter portage. It is a nice cool and clear morning. Other than long it was a typical portage for this area. Mostly follow the rock cairns with some small ups and downs. Finally I am at Kosteck Lake. I have had enough of small rivers and it was good to be back on a lake. It was a nice cool and sunny day, one of the nicer days on the whole trip. On Kosteck Lake I cache a couple of day's food and a battery pack on a small rocky island for the return trip. Then onto a 2 kilometer portage to Aiken lake. No problem finding the portage and I am soon headed across with my pack. The portage is well cairn'd however you have to watch closely, there are a few sharp turns and I had to stop a couple of times look for a cairn. There is a really nice campsite on the far end. Large camp, protected from the wind with a nice sandy beach. After going back for the canoe I enjoy a nice lunch and some rest. While I was checking out the beach I stepped on a large shell shaped rock just und the water. It was slipperier than wet ice and I fell pretty hard landing on my hand. I got a good bruise from that and it would bother me some for the next few days. Aiken Lake was pretty calm so I cut straight across to where the Gammon River enters the lake. A short ways up the Gammon is a falls. It has a nice campsite so I call it a day. Once camp is set up I make a few casts at the bottom of the falls and catch supper, a couple of nice eating sized walleyes. It is a beautiful evening and I relax in my chair listening to the falls and watching the daylight fade.
Getting started on Kosteck Lake on a beautiful morning
The portage into Aiken Lake
Aiken Lake
Fish Fry at Carlson Falls on the Gammon River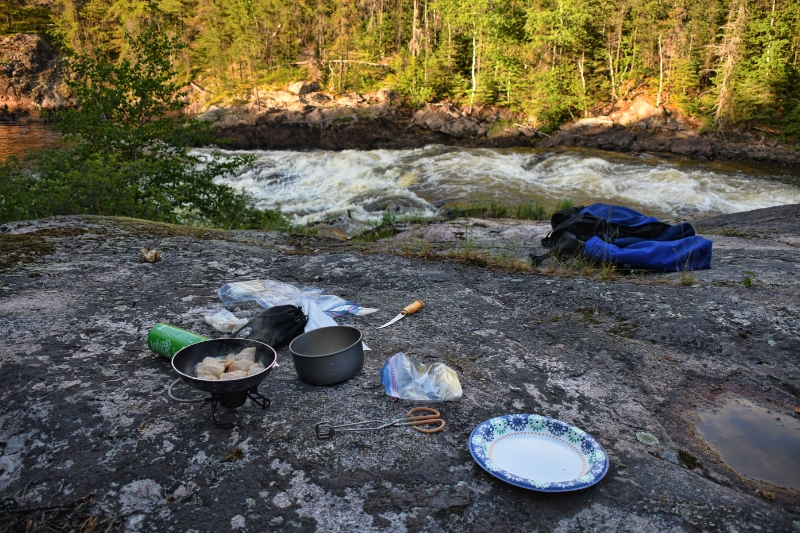 Day 4
The Gammon River

7 Miles 2 short portages

I awake to a nice sunny morning and I am anxious to get going. After a quick breakfast I get packed up and on my way. I'm starting to get the into the routine. It is a short paddle to the next portage which is a short hop over on the left side. I am enjoying the paddle on the Gammon. The weather is perfect and I am in no hurry today. My 2nd and last portage for the day is around a rather impressive falls. It took me a little while to figure out which side the portage was on. (right side) The landing was not great and steep climb but it is a short portage. I take a few minutes break to have a Cliff bar and enjoy the moment before I get back in the canoe. The Gammon is wide in spots and not very deep. I see lots of waterfowl along the way with newly hatched fuzzballs. I stopped on a long sandbar to stretch my legs. I took my lifejacket off and laid it on my pack in the back of the canoe. Then a nice stroll down the sandy river bank before returning to the canoe. I paddle another couple miles before taking another break in a shallow spot between two islands. It is here I realize I do not have my life jacket on. I l must have lost it somewhere between here and my last stop. Do I go back and look? I had passed through some very wide areas and I knew I would be lucky to find it. There are several outposts coming up so I am hoping I can borrow one from them. It is starting to quickly cloud over and look like rain and the breeze is picking up. I find a camp site about noon and set up camp. I am tired after a long paddle and portaging yesterday. After lunch I get a good 3 hour nap. There is a light drizzle outside so I am in no hurry to get out of the tent. I go through all my gear and try to get things organized a bit now that I am into the trip. I have some Tuscan Stew for supper and get to bed early as a light rain starts to fall.

Getting started Day 4 on the Gammon River
The start of the portage
Portaging around the falls
The locals keeping an eye on me
Enjoying the day, Life is Good
I hope you enjoy the virtual trip. Feedback is always welcome. I can be contacted via email at bill@hobbydog.net