Woodland Caribou Provincial Park 2013 Solo Trip
Woodland Caribou is a place I have wanted to visit for some time. This year I was able to spend 8 day paddling, portaging and exploring WCPP. The BWCA gets 250,000 visitors a year. Adjoining Quetico gets about 25,000 visitors a year. WCPP get less than 1,000 visitors. After the fist day in the park I did not see another soul. Below are some pictures and description of my trip.
Where is Woodland Caribou? About 100 miles NE of Winnipeg. I was in the southern portion of the park.
Below is a zoomed in picture of my route. 110 miles of paddling and portaging in 8 days. This included 7 kilometers of portages. I double tripped on the portages so that comes out to 21 km or about 13 miles. If you have Google earth you can view the route in detail with the .kmz file at the link below.
Day 1
On Saturday I drove up to the cabin and had a relaxing evening and a good steak dinner. . Anticipation is high. I had been planning my first WCPP trip for years. Many hours in the last few weeks were spent staring at Google Earth. Tomorrow will be the day to finally realize the dream.
Day 2

11 miles 0 portages

I am up early. The border opens at the Lancaster/Tolstoi crossing at 8AM. I am there waiting. No problems crossing and I am on my way. Lac du Bonnett and then up to Beresford Lake. It is thr Labor Day holiday weekend in CA as well. The hilly, windy, narrow 70 miles of gravel road is quite busy. You have to really watch it cresting the hills and turns for oncoming vehicles in the middle of the road. There are several historical markers and rec area along the way.

Beresford at last and I am quickly on the way. The stretch between Beresford and Garner is a narrow twisting and turning channel lined with wild rice.

It is about 11 miles from the launch to the far end of Garner. I pick the last campsite on the lake and get set up. There is an island a short distance away with an interesting rock cairn I need to go investigate. At the top is an Inukshuck overlooking the entry point to WCPP.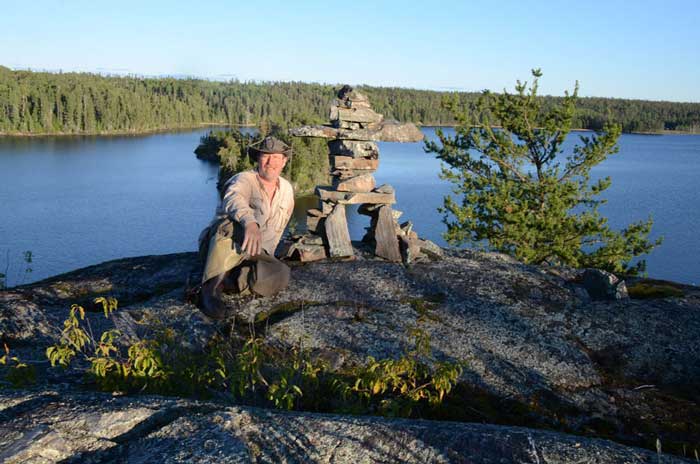 A beautiful evening

Day 3

14 miles 14 portages

As I am leaving a raven flies in and sits on Inukshuk...A good omen?

The sandy beach at the entry point to WCPP
Today the trip really starts. The EP is well marked and starts out with a 300 m uphill portage. Then a narrow stream with a couple of beaver dams. A 250 m and then an 800 m portage. This stretch is shallow and narrow but easy to navigate. You will also see some of the oldest and largest spruce and jack pine of the trip as this is a relatively old forest compared to the places I visited.


A beaver dam to cross
Jester Lake is a welcome sight. I stop for a short break on a small island and a quick snack on some trail mix. The next few hours are spent navigating small waterways, shallow no name lakes and short portages. Often I get out to guide my canoe over rocky stretches or shallow spots. About mid afternoon I have a decision point. Lay up on a nice campsite recommended by others or go for Haggart Lake. There is suppose to be a nice campsite on Haggart just beyond the last portage. I push on to Haggart.
The last 400 meter portage I am starting to run out of gas. I get to Haggart and discover that my planned campsite is occupied. Nobody is there but there are several tents. It is getting late so head for the next campsite on my GPS to the north . This is where I learned firsthand (Lesson 1) that all campsites on the map may not be real viable. (I had read this in several places in researching the trip) It was late though and there was room for my tent so I got set up. I was quite dehydrated so worked on that and got supper going. Lesson 2: My tent. I like my old school Timberline 4. Yes, way big for a solo but I like the room and often get by without putting up a tarp in light rain. If I were to do it again I would downsize to a 2-3 man freestanding tent. It would work much better as WCPP tent pad space is a premium on most campsites. A nice evening and into the tent early. Fighting off a leg cramp I manage a good night sleep. (more on sleep later) As I am dozing off I hear the other party paddle by, it is late, they must be returning from a day trip. I doubt they even noticed my camp. This is the last group I would encounter for the rest of the trip other than a tent sighting on Wrist.

Day 4
15 miles 8 portages

Another sunny morning. A good night sleep has me ready to go. Some oatmeal and I am on the way. The light wind is switching to the NW and I have easy sailing across Haggart Lake. I stop by an old fly in fishing camp and take a rest on the sandy beach. I was a bit surprised at the number of nice sandy beaches I encountered.
Then onto the old loggers cabin pointed out by other trip reports. I wish these places could talk. The old trappers cabin is in much worse shape than it looks from the front. I try to imagine a dogsled team and a trapper holed up here on a cold winter night or the work that went into building one of these cabins.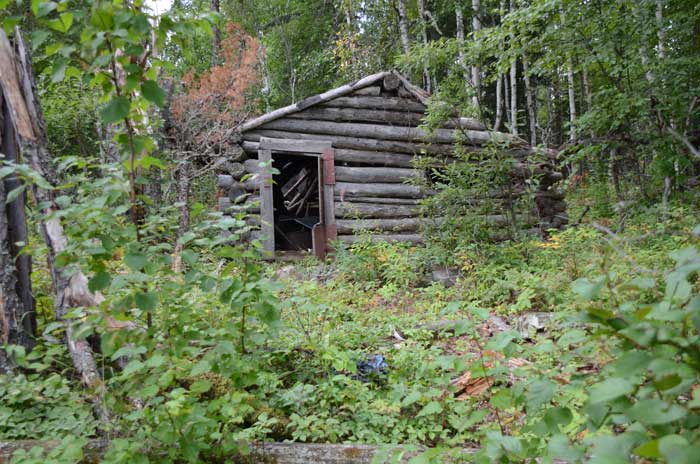 The back side
I spend some time here, found some Caribou tracks on the beach. An old shovel that signifies something, maybe marks the location.



I move on to a string of short portages and narrow waterways as I drop down into Beamish Lake. A very scenic and enjoyable route.

Some of these no name lakes are very deserving of names. I stop to have lunch at a falls along the way. A very relaxing place.
The shallow water glitters like gold.

Decision point: I left two itineraries with my wife. One that had me looping through Beamish, Irregular and Mather…or if I was feeling good and on schedule I would loop through Welkin, Aegean, and Wrist on a longer route to my next decision point. There were a group of campsites clustered on Welkin, I figured one of should work. The first one I came to had a stack of split firewood by the fireplace. I looked no further. What I was learning is that the more rocks in the fire ring the nicer the camp site as a good rule of thumb.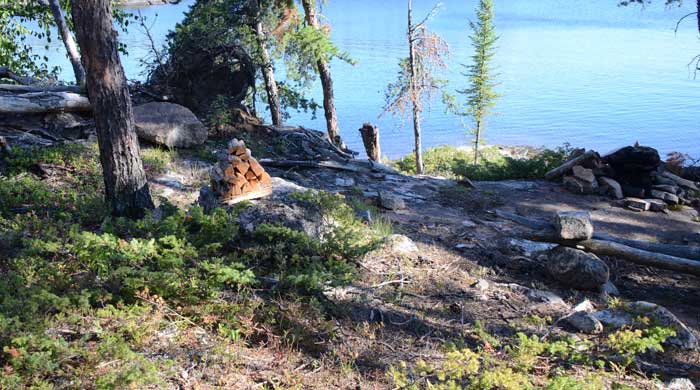 Keeping my wife updated with my friend SPOT. I check in several tomes a day. I can also send for help if I need it. Also my trusty GPS. My map is good but the GPS really helps me and the map are not in agreement.

Supper, a good swim, a fire and a beautiful evening. Today is the first day I am starting to relax and enjoy the trip. I decide to stay up and try get some star pictures with a cheap fast lens I had bought for low light shots. I didn't get the results I was hoping for but it was a fun way to spend the evening.


























A little red glow in the NW sky? A hint of some northern lights?


Day 5

11 miles 3 portages

A really good night sleep. One pattern is developing. …..dreams. Some wild ones and I usually don't remember dreams when I wake up. Every night of the trip I had vivid dreams I will remember.

A cool sunrise.....





















My red Wenonah Wilderness solo canoe in the mornings early light.

And a cool sunny morning. I am slow to break camp, just enjoying the cool sunshine. For breakfast my favorite meal on the trip... Hashbrowns.
Today I am going to portage through a burn area down into Aegean Lake. This burn area on Google Earth has intrigued me for a long time. I am hoping the portages have been cleared. I slowly make my way down the lake. I stop at the campsite (not a recommended one) mid lake and across from the portage into a unnamed lake I will be taking to Aegean. There is a portage there somewhere…hopefully.

The campsite across from the portage I am looking for.
As with other portages, this portage is well marked and easy to find, cleared and an easy uphill 100 m portage into a no name lake (It is deserving of a name).
Only a slight breeze today and a nice paddle down the no name lake. The 550 meter portage to the next lake was easy to find and very well marked. Most portages are marked with an axe blaze on a tree. This one also had some ribbon tape. There was a down tree blocking the first part of the trail so took some time to clear that. This was a pretty cool portage. Small rock cairns and a few ribbons mark the route. It is a bit challenging as there are some steep ups and downs. On the far end it is a bit swampy. I got a stuck boot while carrying the canoe, stumbled and "sat down" rather abruptly. A sat there for a few seconds making sure all joints were in place and how to get up and going again. It was a reminder of how quick something could happen. There were lots of blueberries on this portage. Sept blueberries! I saw them on the burned out portage to Jigsaw as well. Must have had something to do with the burn areas as they were done everywhere else. I took advantage and ate several handfuls on the way back for my second trip.
I am soon out of the burn area and on Aegean. I stop at the portage to South Aegean and cross it just for a look. I paddle up Aegean into a cool light northerly breeze. Some interesting rocks...pull one out and they all come down.

I find a campsite towards the north end and pull in for the evening. I am set up early so try some fishing for the first time. It did not take long to catch a northern and I headed back for supper. Something other than a dehydrated meal and a relaxing evening by the fire. Most days I was just too tired to get back in the canoe and go fishing at the end of the day. A good meal and a very relaxing evening.

Day 6
13 miles and 2 portages

Rested and ready to go. I have been sleeping really good at night. I can't believe the number of sunny days I am getting. The 10 day forecasts was for lots of sun all week and so far that forecast was spot on for temps, wind and cloud cover. The plan is to make it to Wrist today and check the portage into Jigsaw. It looks steep and long in the preplanning. I am leaning towards looping back through Welkin and Beamish.

I spend my lunch break at the falls into Wrist Lake. A very nice place lunch and reflection time. Then spend some more time walking the beach on the other end of the portage.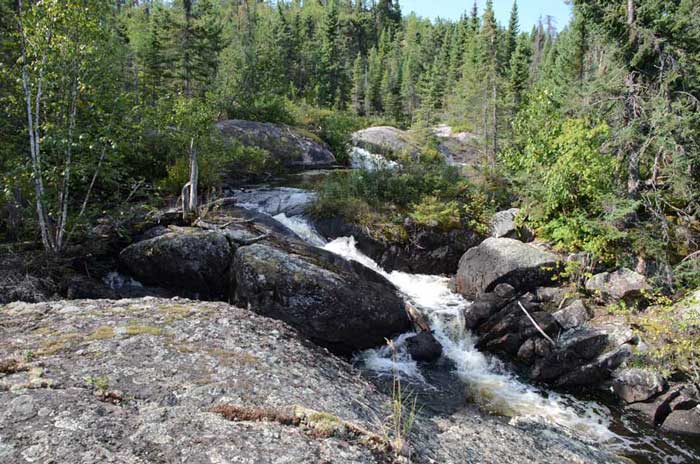 The beach on Wrist Lake


Some fresh wolf tracks….
and some cool driftwood ....

After an hour or so break, onto the portage into Jigsaw. There were several campsites listed on the map close to that portage and figured one of those should work.. Going across the Wrist Lake I spotted a tent on the north side but no canoe. Must have been out paddling. All the campsites on the west side of Wrist Lake I planned on staying at were duds. I decided to walk the portage into Jigsaw, long and steep. Some cool views from there though….and lots of blueberries.

Long and steep in places but well marked

I decide to head back through Welkin and camp at the site I was on a couple days ago. Hate doubling up on sites but it is the safe bet. I had heard the portage out of Wrist was a real goat trail. That was a good description. Not long but plenty of opportunities to trip or fall.

Portage from Wrist to Welkin

The paddle west on Welkin was into a fair breeze funneled down the east/west lake. I was pretty much spent when I reached my familiar campsite. Another nice night as I unwind and start thinking about the rest of the trip.
Day 7

8 miles and 2 portages

A slow start today. The hope is to get to Irregular Lake. It is a warm morning and a I work up a good sweat just getting packed up. I take a quick swim before leaving. It will be the first of three swims today just to cool down. Mostly paddling today, a 150 m and an 825m portage. Not only is it a warm morning but no breeze. Makes for really nice paddling though.
I had lunch on the no name lake between Beamish and Irregular. This lake deserves a name as well. A beautiful lake dotted with rock islands.
There is no wind or clouds and temps must be in the mid 80s. A quick swim before moving on. The 825m portage was not bad but the heat was in the upper 80s. There was a campsite right next to the end of this portage. I stay here for the night. First another swim. As I get camp set up, some afternoon thunder poppers are developing. Just as I am all set up a little squall comes through. More wind than rain. It lasted about 5 minutes and the sky settled down. I spent some time in the evening casting for muskies the lake is known for. No luck, but really was only a half hearted attempt.
My thoughts turn to the next couple of days as the trip is winding down. A magnificent sunset and hint of a cool north breeze.

Day 8

13 miles 4 portages

Today, Mather Lake and setting up for a paddle back to Garner the next day. A slight breeze picks up out of the northeast as I paddle out of Irregular. It felt really good after the hot day yesterday. I spend some time on the portage taking pictures.

By the time I hit Mather Lake the wind was picking up a bit. After the warm day yesterday the cool breeze felt really good.
I found this statue between a couple of islands. It was a slice of rock propped up. Someone did a good job.
A nice campsite right there so enjoyed some lunch.

Checked out some of the other campsites on Mather, a couple of the nicer ones I saw along the way.
My Hiker Pro water filter is starting to clog up. Pumping is becoming a bit of a chore. I worked my way up to the island campsite I contemplated staying on the day I decided to go for Haggart. It is a nice campsite with lots of room. As I sit by the fire I take time reflect on the trip. What a string of great weather. The solitude. Incredible beauty. Ruggedness of the terrain. The physical challenge. I also think about tomorrow. I hate backtracking out, should I layup on Garner or just go for the truck? Thoughts start turning to real food, hot showers and cold beverages as I drift off to sleep.


Day 9
19 miles 10 portages
I am awake at 5 AM. I am ready to go. A good breakfast of hashbrowns and I am off at sunrise.
A flock of geese take flight leaving some feathers behind.

Backtracking through the narrow passages and over the short portages I am soon at Jester Lake and have a quick lunch break. Three more downhill portages and I am back to the Garner Lake entry point on Garner.
It is overcast calm and feeling like rain. It is 1 PM and 11 miles to the truck. I decide to take advantage of a calm Garner and paddle out. Beresford campground was empty. I got there at 5 PM and never saw a soul. I set up my tent and got an early night sleep. My muscles are tired, my body aches but my mind is in a good place as I think over the past week. Thinking of steaks and a good glass of wine as I drift off to sleep.

Day 10

I take my time and head home by looping up and around Bissett , stopping at Wallace Lake to check that out. It looks much like Beresford. Bissett…that was an interesting mining town. The drive south to Pine Falls…a good place to see a moose but other than that nothing to see. It rains most of the way back. Back at the border I had the easiest crossing ever . Where have you been? How long? Did you bring anything back? Scanned my passport and said "have a good day". Back at the cabin….. Life is good.
Back at the cabin. Appreciation for something that was not rehydrated in a foil pouch. I lost 10 lbs over the 8 days but gained a couple back in the next few days at the cabin.

A couple of links if you are thinking about planning a trip to WCPP. The park office or Red Lake Outfitters can answer any questions you may have about the park.
I hope you enjoy the virtual trip. Feedback is always welcome. I can be contacted via email at bill@hobbydog.net