Fishing in the BWCA
In 1972 I took my first trip into the BWCA with the boy scouts. We left Charles L. Sommers Wilderness Canoe Camp on Moose Lake and spent 10 days paddling and portaging. We made are way across the BWCA and finished up at Lake Superior by way of Grand Portage.
The only lake we had good fishing on during our first trip was South Fowl Lake. In 1988 I was able to return to this lake, 16 years after the first trip. I have made the trip for the fishing opener 7 times since then. There have been some real memorable trips. From 70 degree calm days to snow storms with 50 mph wind gusts. Then there was the 1997 trip when the BWCA was froze up.....well not quite. The lake we go to has flowage most of the way into it, so we figured if we could make it in, we should be able to get into some early spawning walleyes. The trip was exhausting, we had to push across 1/2 mile of slush covered ice and the first portage in waste deep snow. After the first trip across the portage we decided to shoot one of the rapids because the snow was too deep on the portage. We made the rapids but it was as close to catastrophe as I want to get. Towards the bottom of the rapids a tree had fallen across the narrow rapids. We were going too fast to try stop or jump out so all we could do was try duck under it. I made it, but Denny in the front of the canoe caught a branch above the eye and he got a pretty good cut. We were lucky that that is all that happened. Had the tree been any lower and not allowed us to go under.....I hate to think of what would have resulted.
Then there was the time we swamped the canoe a couple of days after ice out. I was bringing a large walleye into my partner in the back of the canoe. When he went to net it he missed the fish but one of Rapala's hooks caught the net. He quickly reached for it again and scooped it, but as he brought it in he lost his balance and kept on going right over the other side of the canoe....the side my back was to. I went in backwards, it happened so fast. One second you are pulling a nice walleye out of the water and the next you are in the water . We had our lifejackets in the canoe but not on. Fortunately we were close to the island we were camping on but the wind was blowing us away from the island. We did not have time to put our life jackets on as we each grabbed onto the canoe with one arm and swam as hard as we could for shore before the wind took us further out in the lake. In a few minutes we made it, but my lungs were burning from the effort. We quickly realized that if we had went in at the beginning of our drift or a minute or two later we would have spent a lot of time in the 40 degree water. The fish I caught was still in the net but another one that I had put in the boat on the previous cast and did not have on the stringer, swam under my chin and out of the canoe as we were swimming it back to shore. Fortunately we did not loose any other gear out of the canoe except our hats. We were back out fishing in about half an hour (with life jackets on) as they were really biting. Later that afternoon a whopper of a spring snow storm hit and we spent the next two days sitting it out.
Below are some pics from some of those trips.
These pictures are from the 1997 trip where 98 % of the lake was froze up. There was just enough open water in the bay the river flowed into to catch some nice spawners. It took awhile to figure out it took a slow presentation to catch them. With no live bait we resorted to Lazy Ikes, and Countdown Rapalas with slow retrieves. The smallest one we caught was 19 inches and the largest was 25 inches. Believe it or not most were males. This is a very fertile lake and the average size is way above average.
Here we are, pulling and pushing across the ice, hoping that the river is open and we can make it in. We didn't get camp made until dark and we were physically exhausted.
Good fishing on a nice spring day in 1996.
Good fishing on a not so nice spring day in 1991.
Shore lunch, it doesn't get any better.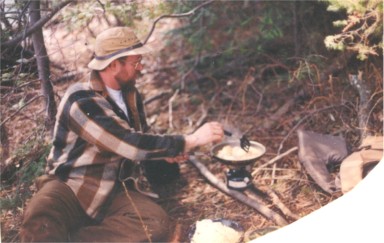 This page wouldn't be complete without a picture of my best fishing buddy, Kota. He made the trip as a puppy in 1989 and learned great canoe manners right away. On that trip we would put the fish on a stringer that was attached to a 50 foot nylon rope. This would get them in deeper water so they would stay alive until we were ready to eat them or pack them out. Kota kept going out, diving down about 3 feet and grabbing a walleye and would bring the whole stringer back to shore. He's even better on ducks.
Taxidermy Dogs Fishing Hunting Heritage Links Hunting