Dogs
Blue was an English Setter that was more of a companion dog for my dad after he retired than a hunting dog. He loved the water though and was not a bad hunter, although he was pretty hyper. Below he is walking on water.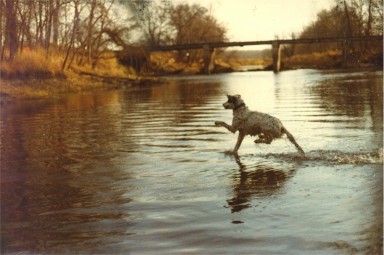 Kota, in the back is my male Golden. He is an excellent waterfowl dog with great instincts. He is one of the few dogs that can see the TV and likes watching hunting and fishing shows. This is maybe why he can mark so well. Sunny is the female in front and does OK in the duck blind but really excels on pheasants and grouse as she has a great nose and likes to work close. She is much smarter but also has an attitude at times.
Kota in the blind.
\
Sunny taking a break.
Kota looking for ducks on the river.
BWCA Taxidermy Fishing Hunting Heritage Links Hunting