Woodland Caribou Provincial Park 2022 Solo Trip
Planning
My last Canada trip was in early May 2019, a trip to Echo Lake in Whiteshell PP. Then Covid happened and border was closed in 2020 and 2021. After I retired in 2021 I really wanted to do a long trip as I wouldn't be constrained by time. However, Covid lingered, borders closed and the place I wanted to go (Woodland Caribou PP) was on fire all summer long. Thus, I planned for 2022 to be a fly-in trip to Woodland Caribou with at least a 21 day food supply. Portaging that much food was going to be an issue, I decided to start at Artery Lake and spend the first week along the Bloodvein. This would allow for minimum portaging while reducing my food supply. It would also allow me to take some time to explore and fish. If all went well, I would work my way back to my starting point (Bisset) by way of Side Lake to Wallace Lake. (This would prove to be very optimistic) Plan B would be to make it as far as I can and fly back out. As serious planning began in the spring of 2022, more was learned about the extent of the fires, quality of the portages due to fires and no portage maintenance during Covid. Also, I decided to move the trip up a week due to a wedding that I had to be back for in late June. This meant a start date around the first of June. Then weeks before that start date, reports of record level flooding in the entire Hudson Bay Watershed were starting to show up. A heavy winter snowpack, combined with a fast late spring thaw meant this was going to make a hard trip even more challenging. However, after a two year absence I was determined to go and fall back on Plan B if needed…..or make a plan C on the fly.
Last minute stuff
I planned on leaving from my cabin in NW Minnesota on May 31 for Bisset Manitoba where I had a flight scheduled for 2 PM. My cabin on the Roseau River was also experiencing some flooding. The day before I loaded everything in my truck as it had to be parked out on the road due to the flooding. I went through my final checklist and made sure I had all my documents I would need to get across the border. The plan was to leave at 6 AM which would give me plenty of time to make the 4-5 hour drive. The forecast for tomorrow was not good as a big weather system was making its way through. This same weather system would be with me for the next 4 days.
High water at the cabin before I left
Day 1
The weather
I got on the road right at 6, however the weather was living up to the forecast. It was raining and the wind was gusting at 40 plus mph. I thought I had the canoe tied on good but I had to stop several times to adjust it before I made it to the border. The border crossing was uneventful other than I did not need to show them my CanPass or Covid Card, only the passport. I assume they already had all that on their computer screen. After gettingwaved through I pulled over in one of the inspection stalls to further secure the canoe. Reports of 60+ mph winds were not exaggerated. I was quartering into the wind for the next 25 miles and had to stop several more time to adjust the canoe. Once I turned eastward and out of the open Red River Valley into more sheltered areas things got better despite no letup in the wind gusts.

I made it to Bisset by noon. The rain had let up but the winds were still gusting 30+ mph. I checked in with Tanya at Bluewater Aviation. She said it was doubtful that I would be flying as the winds had everything grounded. She suggested I check in at the Northern Wings Bed and Breakfast in town as it was the only lodging available. Then check in later in the day to see how the schedule shaped up for tomorrow. I checked in with Barry and Lek at the at the B&B and then decided to go for a drive to Wallace lake and check that out as it is where I hoped to end up in 3 weeks. The road there was really bad and almost washed out in places. Wallace Lake was really high, all the docks were under water and partially floated away. My anxiety was high to begin with but seeing the exceptionally high waters, the winds, uncertainty about when I would get to Artery Lake did not help..

After checking back in with Tanya I headed over to the B&B. I would be flying out at 8 AM or a soon as the Otter that was coming from Lac du Bonnet arrived. The B&B was nice. I had a whole bunkroom to myself. Bisset was a gold mining town and there were some history books telling that story. It was quite interesting in how the town has survived after the gold ran out. The mine is still open but they are only processing the tailings from the past. I rechecked all my gear one last time and then off to bed early.
Almost there
Northern Wings Bed & Breakfast
Day 2
Takeoff….finally
I slept well but was up before my alarm went off. Hopefully this would be the big day I would finally get underway. Lek had breakfast ready at 6 AM and it was awesome. Pancakes, bacon, sausage, eggs and fruit. That would be my last meal until late in the afternoon. I checked in at Bluewater and it looked like things were still on schedule. There was some sun and the winds had calmed down a bit. Soon the canoe was tied on and we were all set to go, right on schedule. It was fun to fly over the route I took in 2018 when I went from Wallace Lake to Artery Lake and back via the Wanipigow and Broadleaf rivers. We landed at Jackson's outpost. The group staying there was getting ready to go out fishing so I talked to them for a while. They said the rail portage that gets you from lower Artery to upper Artery Lake was underwater. They had not been able to get their boats to the upper part of the lake. They suggested that I portage through the woods on the south side of the falls. They had looked at doing that but didn't think they could wrestle their big boats across that point. They said I should be able to get my canoe across. The Otter taxied out and was taking off. That is always an incredible feeling as you watch it fly off over the trees. My thoughts quickly turn to getting underway as the clouds are darkening and the wind is starting to pick up.
I make it to the south side of rapids into lower Artery. The Bloodvein River which flows through Artery Lake is about a half mile wide here. At first, I thought I could catch and eddy and make through but that was a no go and an unneeded risk as the bushwack portage across was only 30 yards or so with good landings on both sides. After crossing, I went a short way to where there were a couple of campsites. One was under water but the other one was nice but not quite as sheltered from the wind. I get the tent set up quickly as it looks like a few rain squalls are in the works. That would be the story for the next couple days. It would look ok, then dark clouds, strong wind gusts and some light wind driven rain. High temps in the lower 40s. I set up camp, cut wood, fished a little from shore. I had to keep moving to stay warm, then crawl in the tent when the rain started. Later that evening when things calmed down, I took the canoe and tried fishing along the shoreline near camp. Not much luck, only a couple small northerns. I was in the tent early. It had been a long day, mostly stuck onshore….but I was finally here, I let that sink in as a I drifted off to sleep.
Getting loaded up at Bluewater Aviation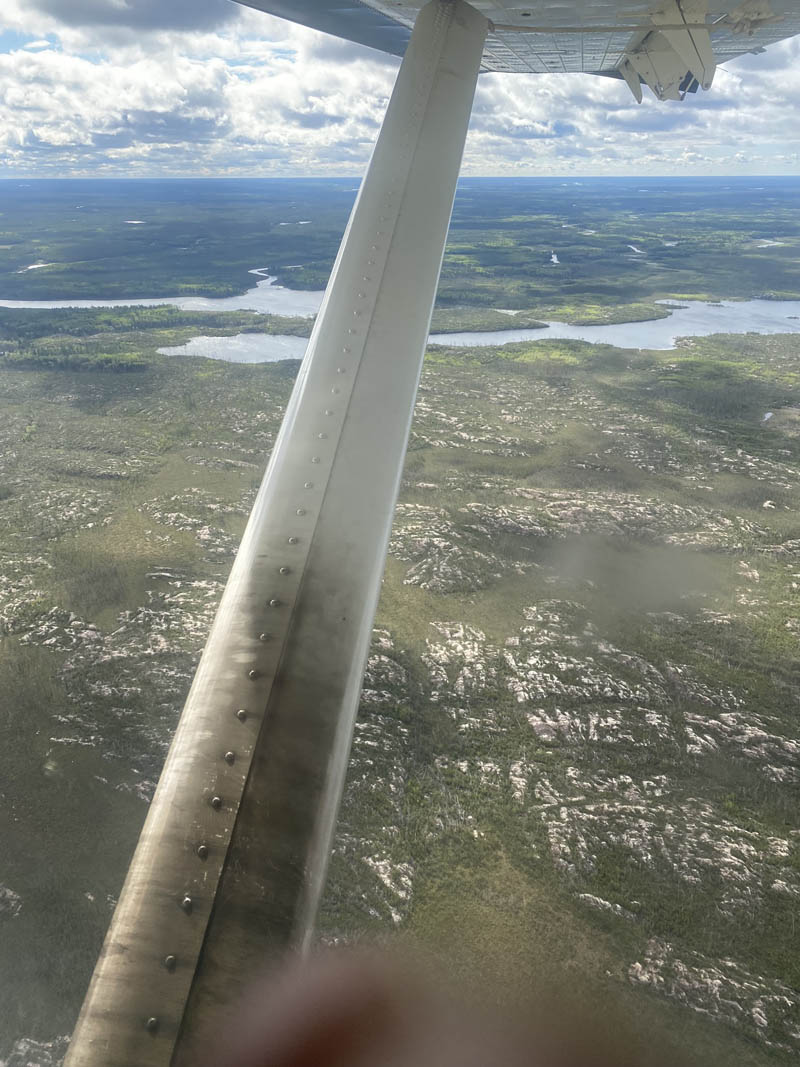 The view from above Atikaki Provincial Park
Artery Lake, Loaded and ready to go
Normally the portage is way out there. I bushwack around the south side.
The other side, Upper Artery Lake
Camp is set up before the rain moves in
Tucked in and ready for a cold night
Day 3
Windy and wet
after 5 AM and I am up early. It is still breezy out, there is some blue sky but the forecast is for on and off rain showers. The same as yesterday only a little more rain midday and the wind is not letting up, especially when the rain squalls came through. I decide to stay put. I explored the shoreline, gathered wood, fished from shore and later that evening fished from my canoe as the winds died down and a little sun peaked through. I had decided I was moving on tomorrow as the forecast was looking better but not great. Tenative plan was to get to the east end of Artery lake and camp on the portage if it was not underwater. I had been this way in 2015 so I kinda knew what to expect. I enjoyed a nice warm fire as the day faded away. The forecast was for mid 20s so I put on and extra warm layer before crawling in the sleeping bag.
Wind and some peaks at sun
Making l
unch inside the vestibule
Day 4
Paddling again
The sun was out and the wind was light when I got up. I wanted an early start as I figured it would like be the best part of the day weatherwise. A quick breakfast and I was on the way. It was cold out but I quickly warmed up as I paddled east. It felt good to be paddling again. Base camping is not my thing although I was planning on taking it slower this timebut now I needed to put some water behind me. Artery lake narrows down into the Bloodvein. There was some current but not bad as the high water had overflowed into adjacent wetlands and it was much wider than I remembered. However it narrowed way down just before you get to the pictos and the current became very strong. I backed out and came back up along the edge using the eddy to get me through the little swift. The picto mural was next. I had seen these in 2015 but the water was much higher this time. I spent a little time here before moving on. Another mile or so and I am at the north falls out of Mary's Lake into Artery Lake. The portage is under water but the campsite here is high and dry. I stop here to take a break. I try a little fishing at the bottom of the rapids and on my first cast yields a pretty nice northern. I have a snack and head out to fish a little. On my paddle to the other falls I troll and catch 3 more northerns, all over 30". I am not able to get into the bowl that the south falls empties into as the current is too strong flowing out. I decide to head back to the north falls and set up camp. I catch a couple more 30+ inch northerns on the way back. As I approach the campsite I see someone carrying a canoe through the burned out woods, then another. I as I come ashore there are 5 souls and I think I recognize them. While planning my trip, Facebooks algorithms placed this groups Facebook post in my feed. A group of young adults going from their backyard in Kenora to Hudson Bay, lead by a person named Emma. I think we were both surprised to see each other. When they said they were headed from Kenora to Hudson Bay I said you must be Backyard Beginnings. They were really surprised I had heard about them. I knew we would possibly be crossing paths about the same time but never expected to meet them. They started a fire and cooked up a quick meal of potato soup and shared a cup with me. We had a good chat while we shared a meal. Their trip had been really hard so far. Record high waters on the English River system. Flooded and burned portages and campsites. Cold, wet and windy…..a really tough start to their summer long trip. Soon they were on their way. I set up camp and then went back out fishing and try catch some walleye for supper. My walleye rig kept on catching big northerns…27 to 35 inch range. In the next few hours I was only able to catch 2 walleyes among the dozen or so big northerns. Walleye and mashed potatoes for supper and a warm fire on a cold night. Despite some sunshine today it did not get much over 40 with some light showers. Another subfreezing night was in store. I was tired tonight and sleep came quick.
All set to go
Pictographs on Artery Lake
Wide angle view
Sharing lunch with the crew from Backyard Beginnings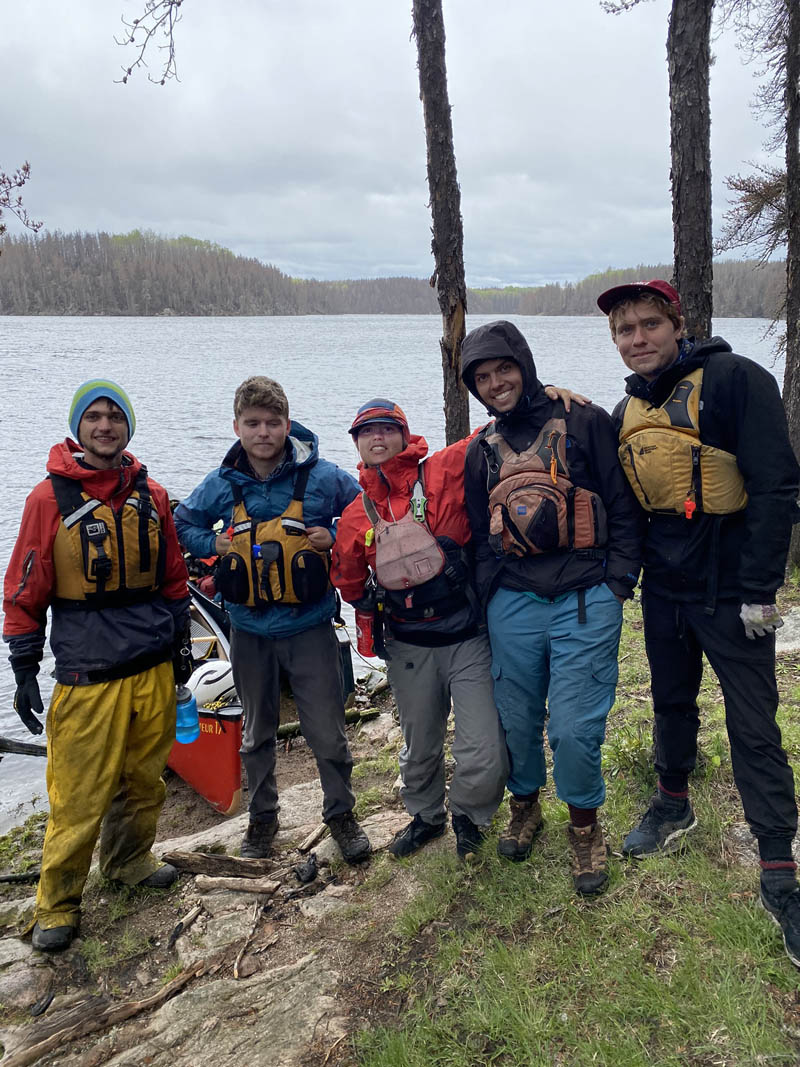 Emma and her crew
Day 5  
Let's go fishing
The day breaks with lots of sunshine…. The only cloud in the sky happens to be between me and the sun and they stay synced up through the early morning. I have a small solar panel and with all the clouds so far, I am getting behind on charging my battery packs. I'm not in too big of a hurry to get going this morning. My breakfast have been some Costco Bisconies with hot tea. They are a little sweet but pack a lot of calories and are so good, especially with hot tea. Breakfast is enjoyed next to a warm fire. Firewood is very plentiful. Yet I am very careful, as you can see in the pictures there are lots of dead jackpine with needles still attached in the burned areas. They burn like gasoline. Despite lots of burned out areas, there is a lot of dead fuel left behind in the lightly touched areas as you can see in the pictures below. I fished all day with a break for some more walleye shore lunch. The big northern fishing is about as good as it gets however nothing bigger than 40". Mostly in the 30-35 inch range. I didn't keep count but probably about 15 over 30" today in 8 hours of fishing. I did manage a couple more walleyes for lunch. The water temp was 52 degrees, a bit cold for a good walleye bite. It was mostly cloudy with a light shower or two and a few periods of sun. I did have an equipment mishap late in the day. I do not bring a net so I try not bring the big fish into the canoe and I try release them alongside the canoe. I had a bigger northern on that would just not play out enough to get hold of her to unhook a Rapala and she was too wide in the shoulders to get a good grip on her. So I grabbed the leader and hauled her into the canoe. I had also forgot to clear out the area in front of me. Mayhem in the canoe as soon as she hit the deck. I was watching the Rapala closely to make sure I didn't get hooked up while trying to grab her. I finally managed to get things under control, get her unhooked and back in the water. As I am getting things sorted out in the canoe, I suddenly realize my walleye rig (St Croix rod) is missing. It must have gotten tossed over in the mayhem. Oh well, nothing I can do about that now. That is exactly why I do not like bringing big fish in a canoe. Back at camp, a warm fire, a daily ration of bourbon and a relaxing evening. I am starting to get into a rhythm and the weather is improving a little every day. I debate packing up in the morning and moving on or spending another day fishing. I decide to take advantage of the good fishing. The sun sets at 9:30 and I hit the sack.
Cold Sunrise
Getting ready to go fish
It doesn't take long to for the first big pike to hit
Lots of action all day long
Lunch
Cooking on the stick stove
Enjoying a warm fire on a cool evening
I hope you enjoy the virtual trip. Feedback is always welcome. I can be contacted via email at bill@hobbydog.net