2000 Opener
The 2000 opener turned out to be a great fishing trip despite some rough weather. My partner Denny and I left at 5:00 AM on Friday so we could get a good camping spot. We made it just in time to get the best spot on the lake and quickly set up camp. The forecast was for a cold front with rain and possible snow with some strong winds behind the front. The forecast was right on target. We had some light rain over night and were up early and on the water at daylight. Within a half hour it started to rain, a cold wind driven rain. With this type of weather and my experience with this lake I knew we were going to be lucky to catch a fish. We fished a spot that always produces when the bite is on but did not have any luck. We moved out to some flats closer to a drop of and in a little deeper water. To my surprise Denny boated a nice 21 inch walleye shortly after we started trolling these flats. The rain turned into wind driven squalls with dropping temps behind the front. It was a cold day but we managed to catch 7 walleyes in the 19 to 22 inch range. We found out back at camp that we were the only ones to catch more than 1 walleye so we new we were doing something right. We had a good meal and hit the sack early as we were pretty exhausted.
We woke in the morning to an overcast sky which turned into a good snow squall before we hit the water. It was windy when we went out but within an hour gusts were topping 40 mph. We knew others would be following us out so we hit a few other spots first before we went back to the flat area where we were picking them up the day before. Along with the wind there were some small snow squalls and a lot of the boats went back in after the first hour. We headed back to the flat and on the first pass we hooked a nice one. The wind was so strong and the boat so hard to control we almost decided to head for shore. We soon realized that we were catching them wherever we went from 6 to 8, 8 to 10, or 10 to 12 feet. We had 5 nice walleyes and a 5 lb. northern in an hour or so. It was time to head in for a walleye feast and a little break from the wind. We headed back out in the afternoon as the sun was starting to peak through. We had a great afternoon of fishing, one of those days you really know you are alive.
It wasn't too bad when it wasn't raining.
The sun is starting to break out after on a cold Sunday morning.
It's doesn't feel as cold when the fish are biting.
The Royal River by day, you can only imagine it at night with the sound of tree frogs (peepers) all around you.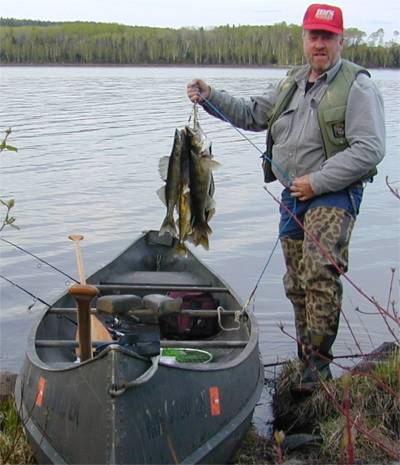 Not a lot of fish for the day but they were all nice ones.
And do they ever taste good.
Taxidermy Dogs Fishing Hunting Heritage Links Hunting BWCA