Atikaki Provincial Park 2017 Solo Trip
Part 2
Day 5
Entering WCPP
17 miles and 2 short portages.
It was a good night sleep and I am up early. Sunrise is 5 AM and I watch it rise as I have breakfast. Breakfast so far has been some large cinnamon rolls I got from the bakery in Clearwater. Quick and sugary. The first portage is about a mile away. A wide rapids with a small drop. I wish I would have found this yesterday, a great place to camp and fish. Flat and open with lots of room and a view. I take a few casts above the rapids and hook a nice northern. He broke the line when I tried to grab him and he flopped back in the water and swam away with the hook. Since I didn't get a good picture I can safely say he was at least 40 inches. Soon I am on my way. After a short day yesterday and a good rest I feel strong today and it is a perfect day to paddle. Five days into the trip and everything going as planned. except no life jacket. There is an outpost cabin in front of me and I am hoping to borrow one from them. However as I approach I do not see any signs of life. It is only 7 AM and I did not want to wake anyone or disturb them so I paddle on. Soon I see a line of canoes coming my way. It is a group of young women who had also started on Wallace and went across the 3 mothers portage. They were going to resupply on Aiken and heading up to Family Lake. Soon I am leaving Atikaki and entering Woodland Caribou PP on Carroll Lake.There is a breeze but it is at my back. Carroll is a rather large lake to be crossing without a lifejacket. I take care to pay extra attention. It is not long and I am at the portage into Craven Lake. It is a short portage and a nice place to have lunch. Lunch has been consisting of Packit Gourmet chicken salad wraps. They come in a couple different flavors. Today it is southwest chicken salad. They are quick and easy, come with real mayo packets and are pretty tasty. As I finish lunch the cumulous clouds are building and the breeze is picking up. I better get going. The plan is to camp on the north end of Craven Lake. Once I get out of the narrows and onto Craven I find myself paddling into a strong and gusty headwind. I paddle straight into the wind to the west side where I am sheltered from the wind. Not far down the west side is another outpost. There is nobody there but I have already decided I will go ashore and see if I can find a lifejacket. There is a boathouse that is unlocked and inside there are at least a dozen lifejackets. It is a Wallace Lake Outpost cabin so I know I can easily return it when I get back to Wallace Lake. It is not the best life jacket but I feel much better having one wrapped around me once again. As I paddle to the north end of Craven I check out several potential camp sites marked on the map. I finally find one with a nice view and pull in for the day. It looks like I could get a little popup shower at any time so getting the tarp up is the first order of business. The rain holds off and actually tries to clear out. It is still early so I decide to go explore a bit and try catch supper. I paddled around a few islands but no luck on catching any fish. I will have to settle for some Sheperd's Cottage Pie. It is very filling. After supper I take a few casts from shore and quickly catch a couple of nice walleyes. Where were they a couple of hours ago. Oh well. Tomorrow is a big portage day so off to bed early.
Getting started on another beautiful morning
Entering WCPP on Carroll Lake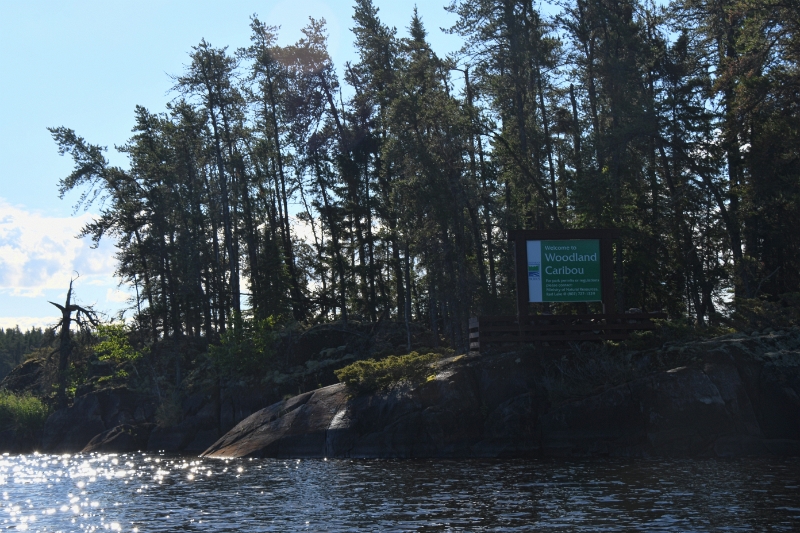 Crossing Carroll Lake
The Narrows Into Craven Lake
The view from camp on Craven Lake
Day 6
The Portages
8 miles 2 portages, 3600 meters.
Today is a day I have been thinking about since deciding on this route. I spent a lot of time researching in planning for the two long portages, one which has a reputation for being very difficult. If I could not make it across them it would mean a big change in plans. I was in no hurry to get going in the morning. It was overcast and the forecast on my InReach called for a chance of light rain. The first portage was marked by a very nice cairn. Before starting the portage I finish off the last cinnamon roll and load up on water. I take my pack to start the first leg of the 1500 meter portage. I will leapfrog the pack and the canoe across this one so I am never too far from my food pack. I find the portage to be flat, scenic and what I would call enjoyable. A stroll though the jack pines and a thick layer of caribou moss. You will not find a nicer or more scenic mile long portage. Soon I am on Ford Lake. It is just a short hop across Ford Lake to the 2200 meter portage into Artery Lake. As I paddle across Ford Lake it starts to rain. As described in a trip report I had read, the portage starts out in a spruce bog. I grab the pack and I am off to find out for myself what this portage is about. The bog looked worse than what it actually was. The bottom is reasonably solid and no boot sucking muck. After about 300 meters there is a steep climb up a rock face. Once on top I drop the pack and head back with my saw to take care of a few matchsticks laying over the portage. There is enough water in the trail to make it fairly easy to drag the canoe. Once back on top of the rocks it is not long before going back down though another spruce bog. This one is not quite as bad as the first one. Then a steeper climb up again. It is here that I slip on the steep rock climb with the canoe. No injuries but I decide to pull the canoe up the steepest parts and in some cases lower it by rope as well. Again, after getting on top of the second high point you descend again into the spruce bog although this one is not very wet. The third steep climb is the hardest one. The rain had stopped but the lichen and moss covered rock was very slippery. Once I had all my gear on top of the third climb I took a long break and had some lunch. A Cliff Bar and strawberry cheesecake. Lots of sugary carbs and calories. I am well into the afternoon by this point. Fortunately the last 1000 meters or so of the portage was not too bad. When I reached Artery Lake it was about 50 degrees and a light rain was coming down again. There was a NW breeze and I quickly became chilled. No timeto rest. Despite being soaked to the bone I put on my rain gear and cinched up my lifejacket for some added warmth. I got under way and was going to stop at the first suitable campsite I found. Problem was I couldn't find the first 3 marked on my map or they just weren't there which is often the case in WCPP. I kept paddling. Just before I got to the Bloodvien River I found a nice large campsite. It is almost 8 PM and I am exhausted. I quickly get the tarp set up and then the tent. I get into some dry clothes and I hop directly into the sleeping bag. Once I get warmed up I climb out of the tent and work on something to eat. I have a cliff bar, some tortillas and work on hydrating. I am just too tired to fix anything else. I will lay over tomorrow and have plenty to eat for breakfast. Once I am back in the tent I quickly fall asleep listening to the rain platter on the tarp. My last thought for the day was "I did it!"
The Start of the Craven to Ford Lake Portage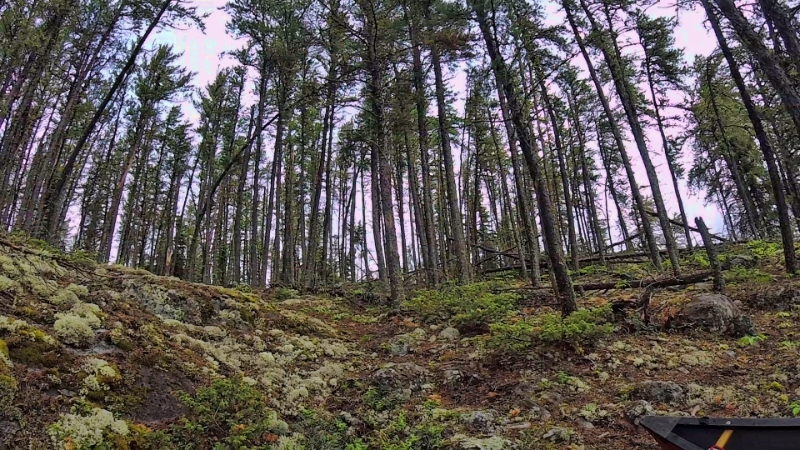 A walk in paradise, Craven to Ford Lake
The fun begins, Ford to Artery Lake Portage
The second of three steep slippery climbs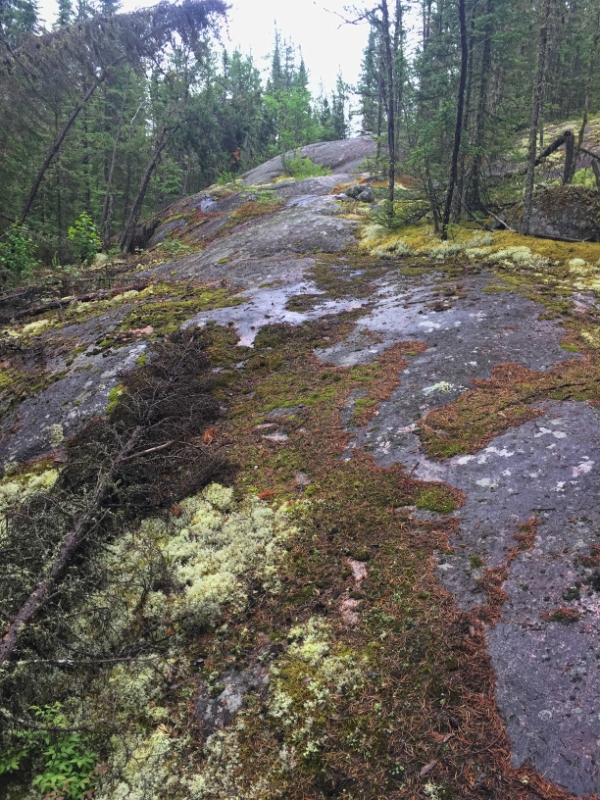 Sometimes on the hard ports I forget to stop and enjoy the beauty around me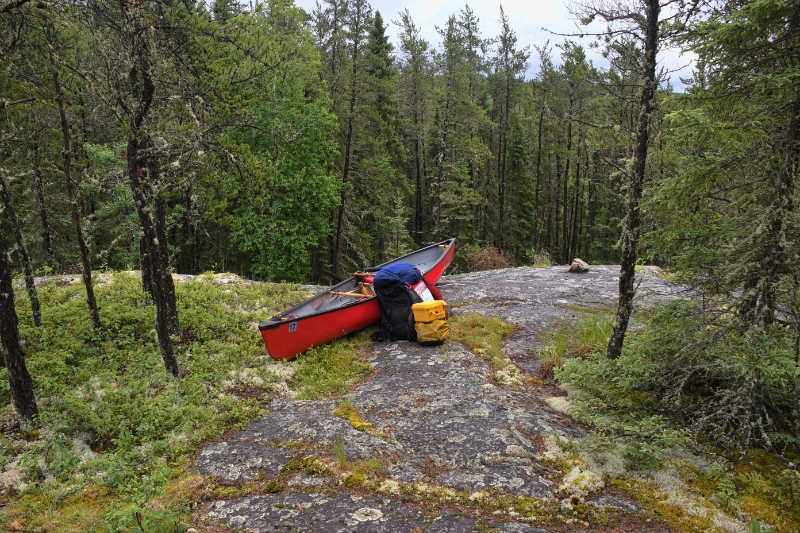 Day 7
Half way. The Layover Day
There is some light rain as I wake up in the early light. I think it rained all night. Once I exit the tent I can see a blue patch or two of sky. First order of the day, a big breakfast. Some hash browns and scrambled eggs. I am feeling pretty good today but really need a good layover day. It is a big sprawling camp site and lots of good firewood. I work on gathering and cutting up a good supply of wood. By late morning I am ready for a nap. Once I wake up the sun is out and a nice breeze blowing. I work on getting stuff hung up and dried out. I sort through my food and plan out meals for the rest of the trip. I will be cutting it close but as long as my food cache is istill on Kosteck lake I should be good. If not I will be down to rations of mashed potatoes. I am not sure where the day went but I enjoyed sitting by the fire. It clouded up later in the day but the rain held off. After supper I found enough ambition to go out and fish. It did not take long to find a few small mouth bass and small walleyes. I did not stray far from camp and ended up catching two nice northerns within sight of camp. Both about 35 inches. I decide to head back to camp and enjoy a fire and watch the sun set. It was a very enjoyable evening. Life is Good!
Drying out and resting up on Artery Lake
Taking Some Time to Fish on Artery Lake, A Nice Northern
A Relaxing Evenening Under a Moody Sky on Artery Lake
Day 8
The Bloodvein
12 miles 5 portages 300 meters
It is an overcast morning but I am ready to get going after a good layover day. My GPS quit working so I will have to rely on my home made maps off of Google Earth. There is a short portage to the lower part of Artery Lake. You can slide the canoe over some rails used by the boats at the outpost lodge on Artery Lake. This saved me a few minutes but ended up costing me over an hour. Once I got to the first portage on the Bloodvein I realized I left my portage yoke at the campsite. I had no choice but to go back for it. Had I realized that at the rail portage It would have only cost me a hour or so. Now I had to go back and retrieve it. However, once I got back to the rail portage I met a boat from Jacksons Lodge and they offered to bring me back to the campsite to retrieve my yoke. It was late morning before I made it back to the Bloodvein. At the second portage on the Bloodvien I met a large group of ER doctors and nurses from Winnepeg. They do an annual trip and it looked like they were having fun teaching some of the newbies how to run the rapids. I portaged around them feeling good I had a whole ER team following me…just in case. The sun was coming out and it was shaping up to be a very enjoyable day. I ran a couple of swifts but portaged around everything else. The portages were pretty easy to figure out though not always well marked. By late afternoon it is looking like I might get hit by a few thunder poppers. I decide to pull up early at an impromptu campsite to avoid what looked like sure rain. Not a very big campsite but it has a very nice view. The showers passed around me so I enjoyed a nice quiet evening on the Bloodvein.
Rail portage on Artery Lake
Back into Atikaki on the Bloodvein River
Navigating without the GPS
Taking a break on a short portage
Rapids into Bushey Lake
Camp on the Bloodvein River
I hope you enjoy the virtual trip. Feedback is always welcome. I can be contacted via email at bill@hobbydog.net