<![if !supportEmptyParas]>
This page is dedicated to 2nd Lt. James Clyde Slavens.
84th Infantry Division
309th Engineer Combat Battalion
Company C
Lt. Slavens was killed in the early morning of February 23 while constructing the bridge at Linnich. This information was submitted by Lt. Slavens' sister Rosaleen Myers. Rosaleen was able to retrace her brothers steps and contact people who new him including those that were there when he was killed by a mortar shell in Linnich. Below is a picture of a bridge over the Rhine River which was constructed a month later and was named the Pratt-Slavens Bridge.
Below is a view of the bridge with the demolished bridge in the background.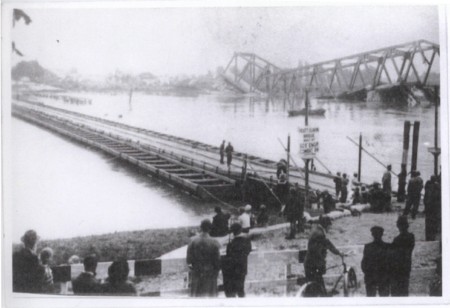 Her is another from a collection owned by William G. Tinsley who was 1st Sergeant of Battery D, 580th AAA AW BN. This bridge was believed to be near Spier Germany.
News article on the death of Lt. Slavens
Soldiers walk through Linnich on 2/23/45
Below are some links to additional photos from The 102nd Infantry Division Through Germany.
Pictures of the Linnich bridge
I hope you enjoy the web site. Feedback is always welcome. I can be contacted via email at bill@hobbydog.net